100 €/paper – fee for publishing in the Conference Proceeding of Research Papers
Fee applies to one presented paper regardless of the number of authors (max. 4 co-authors).
70 €/person – personal participation in the conference
Participation fee includes a conference fee (refreshments, conference materials, Conference Proceeding of Abstracts of Research Papers and participation certificate for the author of the paper)
30 €/paper – presentation of the paper without the immediate presence at the venue of the conference (poster, respectively tele-bridge)
Fee applies to one paper regardless of the number of authors (max. 4 co-authors).
Poster, respectively tele-bridge is a substitute for a personal presentation at the conference venue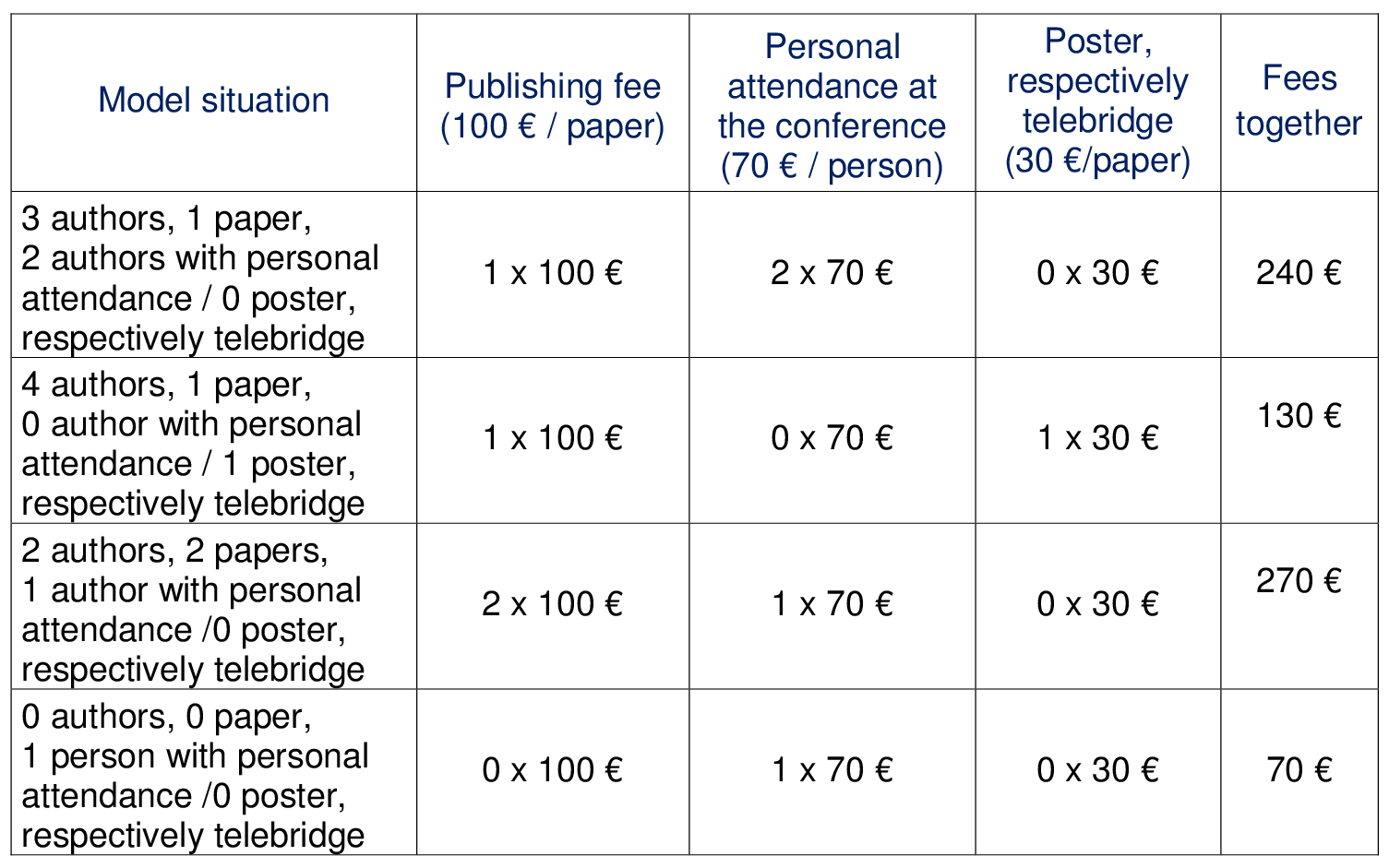 The conference fees (Publishing fee and Participation fee) will not be refunded.
The publication of a contribution in a collection of scientific papers is conditioned by a personal or poster presentation of the paper, respectively by presentation of a contribution via telemost, payment of fees until 13 September 2019 to the relevant account number (IBAN) by bank transfer and successful review procedure.
Payment Method
Conference fees have to be paid until 13 September 2019 only by bank transfer to the following account number (IBAN).
After the payment an invoice will be issued. You will receive the invoice up on registration on the day of the commencement of the conference 03 October 2019.
Bank details
Recipient: Nadácia prof. Ing. Júliusa Pázmana
Identification Number: 319 92 196
Bank of Recipient:
Všeobecná úverová banka, a. s.
Identification Number of Bank: 313 20 155
Bank Code: 0200
Bank Designation: SUBA
Electronic IBAN: SK35 0200 0000 0037 7124 8155
SWIFT (BIC): SUBASKBX
Variable Symbol: Date of your conference patricipation, e.g. 03102019
Message for Recipient/Specification of Payment:
PaperID – Name/Names and Surname/Surnames of conference attendees for which the fee is paid (ID00X – Name Surname)
Conference Financial Management

Nadácia prof. Ing. Júliusa Pázmana
Ing. Lenka ŠTOFOVÁ, PhD. – contact person, University of Economics in Bratislava, SK
e-mail: info.mtsconference@gmail.com
tel .: +421 55 722 3254